March 15, 2010

Jacksonville Daily Progress
"Case against White dismissed"
Lauren LaFleur CNHI

JACKSONVILLE — Charges against Cherokee County Sheriff's Department Capt. Chris White were dismissed Monday.

White was accused of kicking Michael Jones of Jacksonville in the face on the night of Aug. 3, 2006, after Jones was restrained in handcuffs.

White had no comment Monday afternoon about the matter.

"We are pleased with the Court's decision," said Chad Rook, one of the attorneys representing White. "The Court clearly made the correct ruling in dismissing all claims against Captain White, as not a shred of evidence exists that he did anything to Mr. Jones."

Jones initially filed a suit against Cherokee County because of his alleged attack. However, the county was dismissed by the court on summary judgment.

Jones was charged with evading arrest for the night in question — witnesses said they saw Jones hitting a woman in his car that night. When a Bullard police officer tried to pull Jones over to investigate the matter, Jones fled.

He was found about five hours later behind a convenience store in Troup, after abandoning his vehicle and fleeing on foot.

Ted Garrigan, Jones' court-appointed attorney, said Jones was subdued and laying on the ground, cuffed at wrists and ankles, when Texas Department of Criminal Justice officers turned him over to Cherokee County officers.

"By the time he got to the Smith County Jail, he had six teeth knocked out and his nose was broken," Garrigan said in a previous interview. "He said he remembers lying on the ground face down completely restrained. A Cherokee County deputy vehicle pulls up, a deputy steps out of it and kicks him in the face until he blacked out."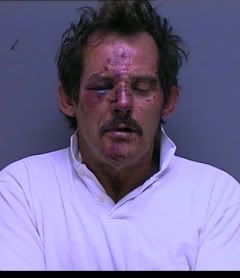 Michael Clyde Jones, courtesy Smith Co. 8/3/2006
According to Rook and Robert Davis, the other attorney representing White, Jones could provide a physical description of his alleged attacker — approximately 5 feet, 8 inches tall and 150-180 pounds.
But the claims that he was kicked in the face and subsequent description of his attacker didn't come for a while.
"He never made this claim at the scene or for months following his arrest," Rook said, via an e-mailed response to questions sent by a Daily Progress reporter. "He only started making such a claim at some point during his criminal proceedings months later."
Rook said only three Cherokee County officers were on the scene, and White was only named because he fit the description of the man Jones claimed kicked him.
Statements were filed by officers on the scene, including those by seven TDCJ officers, all dated between Aug. 15, 2006, and Aug. 18, 2006. Six of those seven ended their written statements by stating they did not see anyone kick, hit or mistreat Jones after he was cuffed. While the wording among the six statements vary, they each express that they did not witness Jones being mistreated by any officers on the scene.
In fact, according to records obtained by the Daily Progress, only one officer recorded that any sort of attack was made on Jones — former Bullard Police Department Officer Bryan Richards recorded that a single officer involved in the incident, Troup's Officer L. Becker, referenced th alleged incident at all.
"While Officer Becker was at the Bullard Police Department, he advised me that he saw a Cherokee County deputy kick Michael Jones in the mouth after he was restrained with hand and leg restraints," according to Richards' report. "This statement was not documented in the incident report that was provided to the Bullard Police Department."
Becker's statement was dated Aug. 11, 2006.
(Source:
Jacksonville Daily Progress
March 15, 2010)
Jones may appeal his excessive force case, according to the
Tyler Morning Telegraph.