The Cherokee County media has reported that Jacksonville, TX resident Larry Hinton and his wife have settled a federal civil rights suits against the City of Jacksonville that has been buried by the local media outlets for a couple of years. Mr. Hinton was falsely arrested, beaten (complete with tasers) and had the pleasure of getting his teeth knocked out by the arresting officers during a botched round-up of rowdy high schoolers back in 2004. The incident occurred during the Jacksonville High School homecoming at the Tomato Bowl football stadium. For his troubles, Mr. Hinton was tried in 2006 by the Cherokee County Attorney for some concocted justification for Jacksonville Officer Larry Pugh's (now a convicted sexual predator) brutality that night in October '04.

This is typical Cherokee County propaganda, especially against minorities who win civil rights cases against the buddy system; it is reported as not a loss, but a win for the county.

Other local media outlets are following suit.
According to the Rusk Cherokeean the Sons of Confederate Veterans will be sponsoring the 3rd Annual city of Gallatin, TX Gopher Fest. Complete with rebel flags and pick 'em up trucks. No mention of the Hinton federal rights suit, though. A black man and his pregnant wife being tasered and beaten by a mob of white police officers simply is not news in Rusk, TX. It is also not news that the arresting officer Larry Pugh is now sentenced to 12 years in federal prison, in an "unrelated case" involving him sexually assaulting women while on patrol in Jacksonville, TX.

Even according to the Tyler Morning Telegraph, April 10, 2007, the latest federal suit against Jacksonville police officers and the City of Jacksonville, TX has again, "been settled." It states: plaintiffs Larry Hinton and wife Leslie filed the suit after being stun gunned and beaten up by Jacksonville PD during a high school homecoming scuffle in October 2004.
The article cites "former Jacksonville Officer Larry Pugh allegedly maced and beat Hinton, according to the lawsuit." The news articles also erroneously state the case was "settled." When Cherokee County entities lose a case, then it is reported as "settled."

When the county wins a civil rights case then it is reported as such.



In an unrelated case"
Officer Larry Pugh
is the sexual predator who was arrested by the US Attorney's office for forcing 2 women to have sex with him, while he was patrolling the streets of Jacksonville, TX. He had about a dozen complaints against him that were ignored by the City of Jacksonville and the Cherokee County Sheriff's Department over a 3 year period. Larry Pugh has since been
sentenced to 12 years in federal prison
for sexually assaulting these women during routine traffic stops.
"In an unrelated case," Larry Pugh is another example of a racist Cherokee County predator cop, a la the beating of John Brown of Alto, two years ago. We believe the cases are VERY related.As stated earlier, in January 2006,
Larry Hinton
was originally arrested, tried and then acquitted in Cherokee County for "interfering with an official investigation," in which he and his wife were beaten by Jacksonville PD. Fellow Cherokee County constituents sick and tired of the police corruption and the sheltering of rogue elements staged a
demonstration
during the Hinton trial on the steps of the Cherokee County courthouse in Rusk, Texas.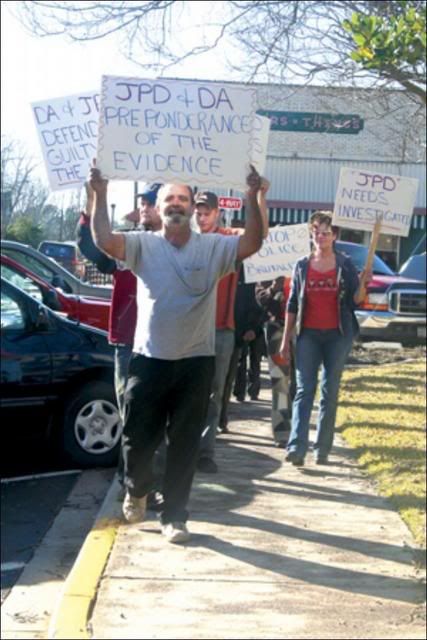 Gatherers showed their solidarity with the victims' being put through the ringer, instead of arresting officer Larry Pugh, Jacksonville PD. The mock trial took place in Cherokee County Attorney Craig Caldwell's court.
Again, no mention by the
Cherokeean
of the fact that Jacksonville patrol officer Larry Pugh was incarcerated by the US Attorney's office, soon after the Hinton's false arrests, for his role in raping women during his traffic stops. No mention of that blemish on the Cherokee County Attorney or District Attorney's office.
Cherokee County actually went forward on the bogus trial of Larry Hinton, even though the arresting officer Larry Pugh, JPD was indicted on federal counts of sexual assault and retaliation.
Editor's question: why was Larry Hinton tried in County Court instead of the District Attorney's court? Assaulting a peace officer and interfering with an official investigation is a felony, not a case for misdemeanor court.The Answer: the county attorney has to take his blows, to keep the political heat and media off the District Attorney's office. However as the picture posted at
http://www.jacksonvilleprogress.com/homepage/images_sizedimage_025113528/resources_photoview
shows that the protesters in 2006 that stood outside the steps of the Cherokee County courthouse were not protesting the County Court at Law. They were rightfully questioning "the DA "
and the "preponderance of the evidence" against Larry Hinton. Another racially motivated injustice and complete travesty. You can't fool everybody every day, just some people some of the time.

On the related racially motivated beating,
John Brown
a former high schooler from Alto, Texas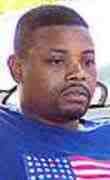 has lost his federal lawsuit in Marshall, TX regarding the night Cherokee County Sheriff Deputy Jamie Beene shattered his ankle and scholarship.
Article
posted March 29, 2007.
In the article, Sheriff James Campbell reflects on 'winning' the civil rights trial

Brown v. Beene

, "now that it is over, we're going back to enforcing the law."
Officer Jamie Beene was "enforcing the law" the night he shattered John Brown's ankle. Remember that. A
Jacksonville patrol officer raping women
when he pulled them over at night was "enforcing the law."
The same JP officer Larry Pugh was "enforcing the law" when he attacked Mr. Hinton and his wife, when Mr. Hinton tried to rescue his wife from the racist hands of Cherokee County law enforcement.
Constable Pct. 3 Randy Thompson
busted for intent to distribute crystal meth was "enforcing the law" while he acted as the 369th Judicial District Court bailiff.
Police chief Chester Kennedy
of Troup, TX busted for drug dealing and evidence tampering was "enforcing the law" for 12 years in Cherokee County, Smith County and Wood County
Heck, even ol'
Michael Meissner
, gypsy-cop extraordinaire and police chief candidate for New Summerfield was "enforcing the law" in Cherokee County. Even though he didn't have a valid and current TCLEOSE certification, but did have an arrest record to go with his fake Criminal Justice degree.
C'mon out to the 3rd Annual Gallatin Gopher Fest, folks, in the heart of Cherokee County, Texas.
Bet these guys will be as tickled as a shrew in soft dirt
when the Sons of Confederate Veterans rifle off something. They're just supporting those who make a living "enforcing the law."
The sons of the Confederacy are enforcing the law in Cherokee County, Texas.